Remember a time when nothing was more important than the opposite sex?
Ken Riddle (Craig Adams), to whom sex is a mystery, joins his two mates from work, Arthur (Russell Crowe) and Barry (Aden Young), on a trip to Kalgoorlie's infamous red light street in a fumbling attempt to collectively lose their virginity.
Puffing on Lucky Strikes lit by Zippos, driving Studebakers adorned with tailfins, all the while shaking, rattling and rolling, the characters in Love in Limbo are innocent of greed, unaware of the world's looming crisis, free of flower power and safe from sex.
Love in Limbo is a good time comedy flick about love, zits and rock'n'roll!
Original excerpt from VHS Cover Blurb.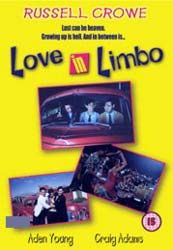 DVD Cover VHS Cover
Welcome to the Love in Limbo web site, designed for a critical overview of the Australian feature film written by John Cundill and directed by David Elfick. The site has several key pages, including cast and crew credits, plot and storylines, production notes and a critical review. I hope you learn a lot more about the film and see that it is more than simply an early Russell Crowe film.

Home
Click here to return to the main page

Production
Full Cast and Crew Credits from the Film

Plot
A detailed synopsis of the script at hand

Process
Interesting side notes relating to the film

Prose
A brief critical review of the film